APU Exhaust Tailpipe Used in an Auxiliary Power Unit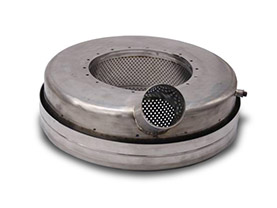 At Precise Metal Products, we have the skills and equipment to efficiently fabricate complex assemblies for the aerospace industry that are typically required in low volumes. We manufactured the exhaust tailpipe shown here for use in an auxiliary power unit. Technically complex, it consisted of 4 sub-assemblies. Constructed from high performance Inconel 625, we used several metalworking processes, including metal spinning, hydroforming, laser cutting/trimming, all of which kept tooling costs low and provided increased structural integrity of the parts. Our welders joined the components in accordance to established AWS standards for aerospace components.
The finished assembly measured approximately 14" in diameter and 5" in height and featured a √125 max surface finish. CMM inspection validated that we met the .001" tolerance requirement, while penetrant testing ensured the welds were defect-free.Diligent resource planning enabled us to complete this assembly in 30 days, and we currently produce them at the rate of 50 units annually. If you are interested in learning more about this project or the processes we used to produce it, contact us today.
APU Exhaust Tailpipe Project Highlights
Product Name

APU Exhaust Tailpipe
Product Description

APU Exhaust Tailpipe Used in an Auxiliary Power Unit
Capabilities Applied/Processes

Primary:

Laser Trimmed
Seam Welded
Perforated Laser Cut
Metal Spinning
Hydroform
Equipment Used to Manufacture Part

Hydroform, Laser, Lathe, Mill, and Seam Welder
Expertise

Hydroform, Spinning, Laser, and Seam welding
Overall Part Dimensions

Approx. Ø14" x 5"
Tightest Tolerances

.001
Material Used

Inco 625 - Nickel Chromium Alloy
Material Finish

√125 Max
Additional Facts

Part consists of 4 sub-assemblies and a total of 12 details
In process testing/inspection performed

Standard Inspection, CMM Inspection, and Penetrant Inspection
Industry for Use

Aerospace
Volume

50 Units/Year
Delivery/Turnaround Time

30 Days
Delivery Location

Connecticut
Standards Met

Customer Specifications
AWS D17.2
AWS D17.1
ASTM, SAE or AISI Standards