Painting & Chem Film Services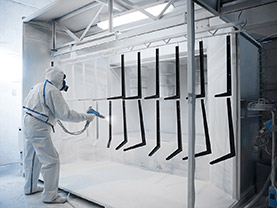 Precise Metal Product offers painting and chem film coatings including MIL-DTL 5541 Class 1A & 3, Alodine 1200S, and PTI PT-209C coatings. Our paint and chem-film coatings are NADCAP accredited and in compliance with all applicable Mil-Spec requirements. Available coating types include polyurethane, enamel, epoxy, and thermal barrier coatings designed for protection and adhesion to materials such as steel, stainless steel, aluminum, brass, copper, or titanium.
Prior to coating application, all substrates are thoroughly cleaned via mechanical or alkaline cleaning, then primed and masked as specified. Surface reactivity tests are performed as necessary. Surfaces are coated with conversion coatings or sprayed with HVLP spray guns and allowed to cure by air drying or baking, depending on the coating. Our curing ovens range in temperature between 180°F and 350°F depending on specified cure temperature and are tightly controlled for a quality, even cure.
We offer water break, coating thickness, adhesion, wet tape, solvent resistance, and corrosion resistance testing to ensure proper substrate adhesion and coating performance. Our ability to form, machine, fabricate, assemble, and coat parts makes even complex components and sub-assemblies very economically priced. We can assist customers in determining the optimal manufacturing processes and coatings for their application to ensure they are provided with the highest quality parts at the best possible prices. For more information about our painting and chem film coating services, see the table below, or contact us directly.
Past Project Examples
Painting & Chem Film Specifications
Coating

Polyurethane
Enamel
Epoxy
Mil-Spec Primers
Mil-Spec Top Coats
Chem Film
Thermal Barrier (High Temperature)
Specifications

MIL DTL 8106
MIL TRF 22750
MIL F 18264
MIL PRF 23377
MIL BMF 10/11
Alodine 1200S
PT-209C
Painting Substrate

Aluminum
Stainless Steel
Mild Steel
Copper
Brass
High Temperature Alloys

Inconel
Hastelloy
Hanes
Waspaloy
Titanium
Chem Film Substrate

Aluminum
Pre-Coating Preparation

Alkaline Clean
Mechanical Clean
Wash Primer
Masking
Surface Reactivity Test
Application Process

HVLP Spray
Conversion Coat
Curing

Baked
Air
Oven Temperature

180 to 350 °F
Inspection

Coordinate Measuring Machine (CMM)
Templates
Gauges
Raw Material
Visual
In-Process
Final
In-House Calibration
Testing

Hardness
Test Report Verification
Mil / Thickness
Adhesion
Solvent Resistance
Salt Spray
Wet Tape
Water Break
Conductivity Tests
Quality

Repeatability
Additional Services Provided

Painting
Part Marking
Adhesive Bonding
Honeycomb Bonding
Assembly
Chem Film (MIL-DTL 5541 Class 1A & 3)
Alkaline Clean
Production Volume

Prototype to High Volume Production
Typical Lead Times

8 weeks (Standard)
12 to 16 (Tooling)
Additional Information
Industry Focus

Aerospace
Defense
Commercial
Energy
Medical
Intended Applications

Complex Assemblies
Sub-Assemblies
Detailed Components
Brackets
Shrouds
Enclosures
Ducts
Heat Shields
Industry Standards

AS 9100 Certified
ISO 9001:2008 Certified
NADCAP Accredited (Special Processes)
File Formats

AutoCAD Inventor
SolidWorks 2013
IGES
STEP
PRT