TIG & Resistance Welding Services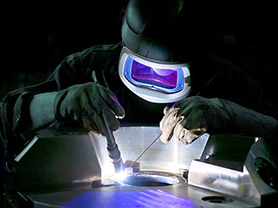 At Precise Metal Products, we provide comprehensive fabrication capabilities, including TIG and resistance welding services that meet the most stringent quality standards. Our TIG fusion welding and spot & seam resistance welding services are NADCAP accredited and all our welders are AWS certified under AWS D17.1 and D17.2, fusion welding and resistance welding for aerospace applications. Our experienced welders are adept at welding all materials used in the aerospace, defense, commercial, and medical industries including steel, stainless steel, aluminum, copper, brass, titanium, and high strength alloys. We can weld materials in thickness from .017" to .140" and our finishing planishers can meet tolerances of ±0.005".
We have extensive experience in welding complex sub-assemblies and can do the initial fabrication and machining as well as any post-weld part marking, bonding, assembly, cleaning, painting, or chem-film application. Our shop can accommodate a range of production volumes, and we offer a standard lead time of 8 weeks on most projects. To learn more about our Nadcap accredited TIG and resistance welding services, see the table below, or contact us directly.
Past Project Examples
TIG & Resistance Welding Specifications
Arc/Resistance Welding Process

TIG (Fusion Arc Weld)
Resistance (Spot & Seam)
Welding Operation

Free Hand
Automatic Settings
Controls

Temperature
Pressure
Schedules
Materials

Aluminum
Stainless Steel
Mild Steel
Copper
Brass
High Temperature Alloys

Inconel
Hastelloy
Hanes
Waspaloy
Titanium
Thickness

.017 to .140 in
Certifications

AWS D 17.1
AWS D17.2
Planisher

± 0.005 in
Inspection

Coordinate Measuring Machine (CMM)
Templates
Gauges
Raw Material
Visual
In-Process
Final
In-House Calibration
Testing

Hardness
Test Report Verification
Mil / Thickness
Adhesion
Solvent Resistance
Salt Spray
Wet Tape
Water Break
Conductivity Tests
Quality

Repeatability
Additional Services Provided

Painting
Part Marking
Adhesive Bonding
Honeycomb Bonding
Assembly
Chem Film (MIL-DTL 5541 Class 1A & 3)
Alkaline Clean
Production Volume

Prototype to High Volume Production
Typical Lead Times

8 weeks (Standard)
12 to 16 (Tooling)
Additional Information
Industry Focus

Aerospace
Defense
Commercial
Energy
Medical
Intended Applications

Complex Assemblies
Sub-Assemblies
Detailed Components
Brackets
Shrouds
Enclosures
Ducts
Heat Shields
Industry Standards

AS 9100 Certified
ISO 9001:2008 Certified
NADCAP Accredited (Special Processes)
File Formats

AutoCAD Inventor
SolidWorks 2013
IGES
STEP
PRT