APU Bell Inlet for the Aerospace Industry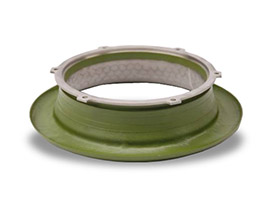 At Precision Metal Products, we specialize at providing low volume, high mix manufacturing services to customers in the aerospace industry. Producing the bell inlet shown here, which featured dimensions of 12" in diameter and 4" in length, required diligent planning and scheduling for the execution of multiple fabrication and assembly processes.
We formed the Poroplate® inner skin and stainless steel outer skin pre-forms on our punch press, then moved them to the spinning lathe to create the axial geometry. Our technicians then used a laser to trim them to a tight ±.005" tolerance. We rough machined the forged ring and welded to the inner liner, then used an adhesive film to bond the honeycomb between the inner and outer liners. Additional operations consisted of finish machining the forged ring, fiberglass layup on the external skin, masking, and painting.
This project showcases our ability to use multiple materials and use a large mix of manufacturing, assembly, test, and inspection processes to produce high-integrity, critical components for demanding applications. If you would like to learn more, or have a project you would like us to evaluate and quote on, please contact us directly.
APU Bell Inlet Project Highlights
Product Name

APU Bell Inlet
Product Description

APU Bell Inlet for the Aerospace Industry
Capabilities Applied/Processes

Primary:


Forged
Fabrication
Punch Press
Metal Spun
Laser Trimmed
Machined
Welded
Bonding
Riveting

Secondary:

Equipment Used to Manufacture Part

Punch Press and Laser
Expertise

Paint Shop, Punch Press, and Bonding
Overall Part Dimensions

Ø12" x 4"
Tightest Tolerances

.005
Material Used

Acoustic Poroplate, Honeycomb, Cres 304
Stainless Steel
Fiber Glass
Material Finish

√125 Max
Additional Facts

Poroplate inner skin and Stainless outer skin are formed by use of punch press and metal spinning then laser trimmed to size. Forged ring is rough machined and welded per AWS D17.1 to inner liner. Assembly consists of adhesive film bonding of the honeycomb between the inner and out liners, welded and final machine of forged ring to size. Fiber glass layup on external skin, masked and painted (primer).
In process testing/inspection performed

Standard Inspection Methods, Gaging, Penetrant Inspection, and CMM inspection.
Industry for Use

Aerospace
Volume

120 Units/Year
Delivery/Turnaround Time

70 Days
Delivery Location

Phoenix
Standards Met

Customer Specifications, 2D CAD Drawing
AWS D17.1