APU Plenum Designed & Built for an Aerospace Manufacturer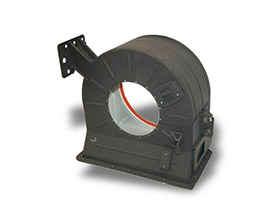 At Precise Metal Products our ability to produce high-integrity products using the latest technology available makes us a trusted supplier to leading aerospace manufacturers. The plenum shown here was designed for use in an auxiliary power unit. It consisted of several mated components, which required high precision to ensure the proper fit. We used multiple manufacturing processes, including sheet metal fabrication, spinning, laser trimming, and welding to form the components from 6061-0 aluminum.
Once complete, the plenums measured 24" in length x 16" in width x 34" in height. In addition to a chemical film, finishing requirements included anodizing and painting of the exterior, which required our technicians to carefully mask the parts to prevent paint from adhering to the interior surfaces. For quality purposes, along with standard inspection methods, we conducted airflow testing to ensure the unit would operate efficiently on the aircraft.
Our high mix of skills and equipment enabled us to successfully produce this assembly to meet the customer's quality and performance standards. To learn more about this project or about our specialized aptitude for manufacturing critical aircraft assemblies, contact us directly.
APU Plenum Project Highlights
Product Name

APU Plenum
Product Description

APU Plenum Designed & Built for an Aerospace Manufacturer
Capabilities Applied/Processes

Primary:


Fabrication
Metal Spun
Laser Trimmed
Welded

Secondary:


Chem-filmed
Anodized
Painted
Bonded
Equipment Used to Manufacture Part

Laser, Brake Press, Spot Welder, Seam Welder, and Mill
Expertise

Seam welding, Assembly department, Paint shop
Overall Part Dimensions

24" x 16" x 34"
Tightest Tolerances

.0025
Material Used

Aluminum 6061-0
Material Finish

√125 Max Before Paint
Additional Facts

Part consists of several details that must mate at assembly. Parts are painted exteriorly but must be masked to prevent paint on the interior surfaces.
In process testing/inspection performed

Air flow Test, Standard inspection methods
Industry for Use

Aerospace
Volume

50 Units/Year
Delivery/Turnaround Time

80 Days
Delivery Location

Phoenix
Standards Met

Customer Specifications, 2D CAD Drawing
AWS D17.2