Fully Assembled, Finished & Inspected Inlet Plenum for an Aerospace Customer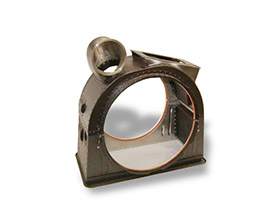 At Precise Metal Products, we produced the inlet plenum shown here for a customer in the aerospace industry. This example demonstrates how our high mix of skills and equipment enables us to manage projects from receipt of drawing to a fully assembled, finished, and inspected product.
The use of hydroforming enabled us to create the difficult and irregular geometry in a single forming cycle. We laser trimmed the tubes to size and machined the bosses, which were welded per AWS D17.1. Assembly consisted of welding, adhesive bonding of the inner Poroplate® skin to the honeycomb and outer bimetal skin, as well as hardware installation and bonding of the gasket seals. The finished workpiece measured 24" in length x 15" in width x 36" in height, and since our large dip tank easily accommodated an assembly of this size, we were able to paint it in-house.
In addition to CMM inspection on literally hundreds of dimensions, our quality team conducted additional testing to ensure the plenums met acoustical and airflow performance requirements. We completed the project in 120 days, and continue to manufacture them in a quantity of 15 per year.
If you are interested in learning more about this project or how our large portfolio of skills can benefit your next project, contact us today.
Inlet Plenum Project Highlights
Product Name

Inlet Plenum
Product Description

Fully Assembled, Finished & Inspected Inlet Plenum for an Aerospace Customer
Capabilities Applied/Processes

Primary:

Laser Trimmed
Welding
Adhesive Bonding

Secondary:
Equipment Used to Manufacture Part

Laser, Hydroform, Seam Welder, Mill, and Dip Tank
Expertise

Paint Shop and Assembly Department
Overall Part Dimensions

24" x 15" x 36"
Tightest Tolerances

.005
Material Used

BiMetal, Acoustic Poroplate, Honeycomb
Material Finish

√125 Max before Paint
Additional Facts

Multiple hydroform details and formed tubes laser trimmed to size, and machined bosses all welded per AWS D17.1. Assembly consist of welding, adhesive bonding of inner poroplate skin to honeycomb and outer Bimetal skin, hardware installation, paint, and bonding of gasket seals
In process testing/inspection performed

Standard Inspection Methods and Air Flow Test
Industry for Use

Aerospace
Volume

15 Units/Year
Delivery/Turnaround Time

120 Days
Delivery Location

Phoenix
Standards Met

Customer Specifications, 2D CAD Drawing
AWS D17.1