Precision Laser Cutting & Wire EDM Services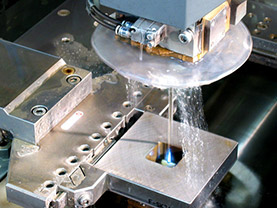 At Precise Metal Products, we provide precision wire EDM services for machining complex profiles into steel, stainless steel, aluminum, copper, brass, titanium and high temperature alloys including Inconel, Hastelloy, and Waspaloy. Our 3-axis wire EDM has CNC capabilities and typically uses a 0.010" wire, but has the capability of using wire as small as 0.004" for close work machining, and can achieve tolerances as tight as ±0.0001", and a minimum part feature of .002". Accommodating maximum part sizes of 11.8" x 9.8" x 6.3", and a 12° taper capacity at a 2.4". Because we have multiple in-house machining options, our customers are able to get the complex parts they need at economical prices. Wire EDM provides an alternative to traditional machining and milling for pre-hardened or high temperature alloys. Because the EDM does not remove material by mechanical force, hardened materials do not suffer the same heat distortion characteristics seen with mechanical machining methods, providing a more precisely machined part with no need for additional heat treating. For more information about our precision wire EDM capability, see the table below, or contact us directly.
Past Project Examples
Laser Cutting Specifications
Laser Type

CO2 (Gaseous)
Nd:YAG (Solid State)
Laser Configuration

Hybrid
Flying Optics
Moving Material
Automation

Rotary Table
Cutting Axis

5 Axis
Maximum Output Power

2500 W
1200 W
Cutting Thickness

Up to 1 in.
Cutting Length

Up to 120 in.
Cutting Width

Up to 60 in.
Kerf

.008 to .016 in.
Accuracy

± 0.002 in.
Wire EDM Specifications
Process

Wire Electrodischarge Machining (EDM)
Equipment Capabilities

CNC Control Capabilities
Cutting Axis

3-Axis
Wire Diameter

.010 in. (Standard)
.004 in. (Possible)
Minimum Part Feature

.020 in.
Length

Up to 11.8 in.
Width

Up to 9.8 in.
Height

Up to 6.3 in.
Taper Capacity (+/-)

12° @ 2.4 in. Thickness
Tolerance (+/-)

.0001 in.
Feed Rate

Up to 31.5 in/min
Additional Information
Materials

Aluminum
Stainless Steel
High Temp Alloys
Mild Steel
Copper
Brass
High Temperature Alloys

Inconel
Hastelloy
Hanes
Waspaloy
Titanium
Inspection

Coordinate Measuring Machine (CMM)
Templates
Gauges
Raw Material
Visual
In-Process
Final
In-House Calibration
Testing

Hardness
Test Report Verification
Mil / Thickness
Adhesion
Solvent Resistance
Salt Spray
Wet Tape
Water Break
Conductivity Tests
Quality

Repeatability
Additional Services Provided

Painting
Part Marking
Adhesive Bonding
Honeycomb Bonding
Assembly
Chem Film (MIL-DTL 5541 Class 1A & 3)
Alkaline Clean
Production Volume

Prototype to High Volume Production
Typical Lead Times

8 weeks (Standard)
12 to 16 (Tooling)
Industry Focus

Aerospace
Defense
Commercial
Energy
Medical
Intended Applications

Complex Assemblies
Sub-Assemblies
Detailed Components
Brackets
Shrouds
Enclosures
Ducts
Heat Shields
Industry Standards

AS 9100 Certified
ISO 9001:2008 Certified
NADCAP Accredited (Special Processes)
File Formats

AutoCAD Inventor
SolidWorks 2013
IGES
STEP
PRT