Hydroformed 347 Stainless Steel Plenum Housing for the Aerospace Industry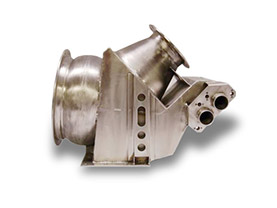 Our ability to create geometrically complex parts that meet the stringent requirements of the aerospace industry won us the contract for producing the plenum housing shown here. Using a hydroforming process enabled us to create the complicated configuration and abstract geometries with precise detail. We laser trimmed the formed tubes to size, machined the flanges, and built a special fixture to orient the components, which allowed for the creation of distortion-free welds according to the ASW D17.1 standard. Fabricated from 347 stainless steel to withstand prolonged heat and resist corrosion, the finished housing featured dimensions of 12" in length x 8" in width x 8" in height. Visual and CMM inspection confirmed that we satisfied the ±.004 tolerance requirement, and penetrant testing validated the integrity of the welds.
This plenum housing met the customer's high expectations for both performance and quality, and we currently manufacture 30 units/year. At Precise Metal Products we specialize in high precision products such as this. To learn more about this project, or the processes used to manufacture it, see the table below or contact us directly.
Plenum Housing Project Highlights
Product Name

Plenum Housing
Product Description

Hydroformed 347 Stainless Steel Plenum Housing
Capabilities Applied/Processes

Primary:
Equipment Used to Manufacture Part

Hydroform, Laser, Lathe, and Mill
Expertise

Hydroform and Laser
Overall Part Dimensions

Approx. 12" x 8" x 8"
Tightest Tolerances

±.004
Material Used

CRES 347
Material Finish

√125 Max
Additional Facts

Multiple hydroform details and formed tubes laser trimmed to size, and machine flanges all welded per AWS D17.1 utilizing weld fixtures to minimize distortion, Interfaces to be final machine after weld.
In process testing/inspection performed

Visual, CMM, and Penetrant
Industry for Use

Aerospace
Volume

30 Units/Year
Delivery/Turnaround Time

150 Days
Delivery Location

Phoenix
Standards Met

Customer Specifications, 2D CAD Drawing
AWS D17.1